Work: Web Development (PHP, Javascript)
Websites: http://mapmaker.dwarvenforge.com/ (recently moved from http://www.dwarvenforge.com/mapmaker)
As part of Dwarven Forge's marketing efforts for their $1.9 million Kickstarter I implemented a Javascript based "map maker" so that their backers could virtually play with the 3D game tiles offered as rewards during the Kickstarter campaign.
The program was built using KineticJS and allowed users to save maps locally using local storage and to socially share maps remotely via a simple PHP-based API. It also featured mouse-wheel based zoom and printable views. The program was then extended during Dwarven Forge's $2.1 million second Kickstarter to add both new functionality and new game tiles.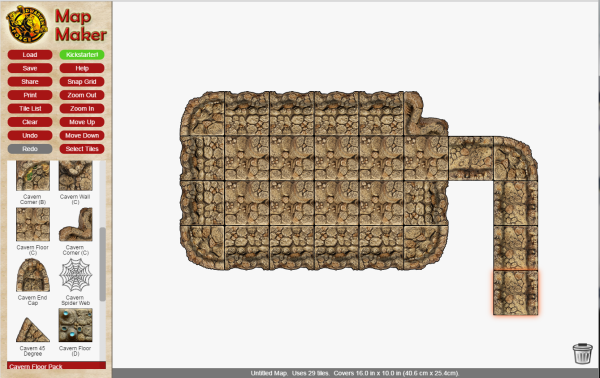 NOTE: As part of Dwarven Forge's recent redesign the map maker was moved to its own subdomain by another developer and some of its functionality is temporarily broken.